Product Description
TVA Series Constant Torque Hydraulic Fluid Coupling
Application:
It is a hydraulic component of transmission of a kind of power type to the hydraulic coincidence machine of square type. Because its efficiency is high, the structure is simple, can drive load to start steadily , Improve performance of starting, improve kinetic energy strength, have protect function, can isolate sprain shaking and assault, The load of balanced every electrical machinery in many drives chain of electrical machinery, And reduce the impact electric current of the electric netting, So used widely in some aspect, such as mining machinery, chemical industry, metallurgical industry, food, architecture, traffic,etc…
The characteristic and operation principle:
There are YOX type and TVA type 2 series in limit hydraulic coincidence machine of square type in our factory produces, YOX type is formed from initiative and passive parts mainly. The initiative ones include complement, front half is connected with the axle, latter half is connected with the axle, elasticity block,pump wheels and outer cover. passive parts Include the axle and turbine mainly The initiative link with former motives and some passive parts link with working machine.
The structure of TVA type is the same as YOX type basically, but the airtight pattern is adopted outside airtight, Have increased the structure of dismantling and putting.
The torsion of the original motive is transmitted by the job liquid in the coincidence machine. Pump change the kinetic energies into liquid mechanical energies . Turbine turn the kinetic energy of the liquid into the mechanical energy. The axle drives load through exporting. There is not mechanical connection between the wheel of pump and turbine.
Our products range:
+YOTCGP series Variable speed fluid coupling
+YOTCG series Variable speed fluid coupling
+YOTCHP series Variable speed fluid coupling
+YOTCHZ series Variable speed fluid coupling
+YOTCQ series Variable speed fluid coupling
+YOTCHF series Variable speed fluid coupling
+Constant fluid coupling, such YOX, TVA series.
Sample Product Photos:
Production Equipment Photos:
Mainly Cooperation Customer:
Raw material yard, ore beneficiation, sinter plant and pellet, coke oven plant, iron making plant, steel making plant.
Successful Projects Feedback:
Note: We also accept the repair work projects, and provide spare parts for variable speed fluid coupling. 
If you have any related projects need our proposal, feel free to contact us.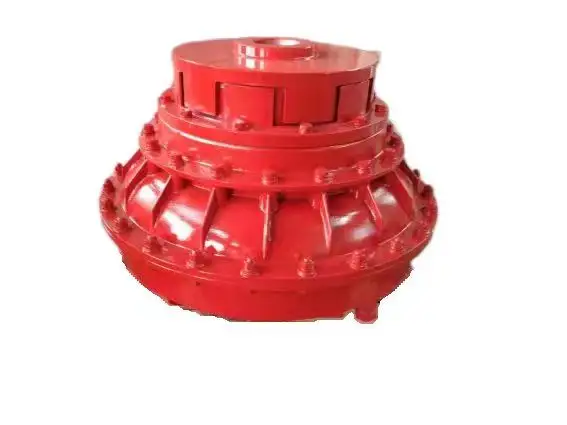 Key Parameters in Designing a Fluid Coupling System
Designing a fluid coupling system requires careful consideration of various parameters to ensure optimal performance and efficiency. Here are the key parameters to take into account:
Power Rating: Determine the power requirements of the connected equipment to select a fluid coupling with an appropriate power rating. Undersized couplings may lead to overheating and premature wear, while oversized couplings can result in energy losses.
Input and Output Speeds: Consider the rotational speeds of the input and output shafts to ensure the fluid coupling can accommodate the desired speed range without slipping or exceeding its limitations.
Torque Capacity: Calculate the maximum torque expected in the system and choose a fluid coupling with a torque capacity that exceeds this value to handle occasional overloads and prevent damage.
Fluid Viscosity: The viscosity of the fluid inside the coupling affects its torque transmission capabilities. Select a fluid viscosity suitable for the application and operating conditions.
Start-Up and Load Conditions: Analyze the start-up torque and load variations during operation. The fluid coupling should be capable of handling these conditions without excessive slip or stress on the drivetrain.
Environmental Factors: Consider the ambient temperature, humidity, and potential exposure to contaminants. Ensure the fluid coupling's materials and sealing mechanisms can withstand the environmental conditions.
Size and Weight: Optimize the size and weight of the fluid coupling to minimize space requirements and facilitate installation and maintenance.
Torsional Resonance: Evaluate torsional resonances in the system and select a fluid coupling with appropriate damping characteristics to mitigate vibrations.
Overload Protection: Determine if overload protection features, such as slip or torque limiting, are necessary to safeguard the connected equipment from damage.
Compatibility: Ensure the fluid coupling is compatible with the specific application, including the type of driven equipment, its mechanical characteristics, and any other interrelated components in the drivetrain.
Operational Costs: Consider the long-term operational costs, maintenance requirements, and efficiency of the fluid coupling to optimize the overall lifecycle cost of the system.
Safety Standards: Adhere to relevant safety standards and regulations in the design and installation of the fluid coupling system to ensure safe and reliable operation.
By carefully evaluating these parameters and selecting a fluid coupling that aligns with the specific requirements of the application, engineers can design a reliable and efficient fluid coupling system for various industrial and power transmission applications.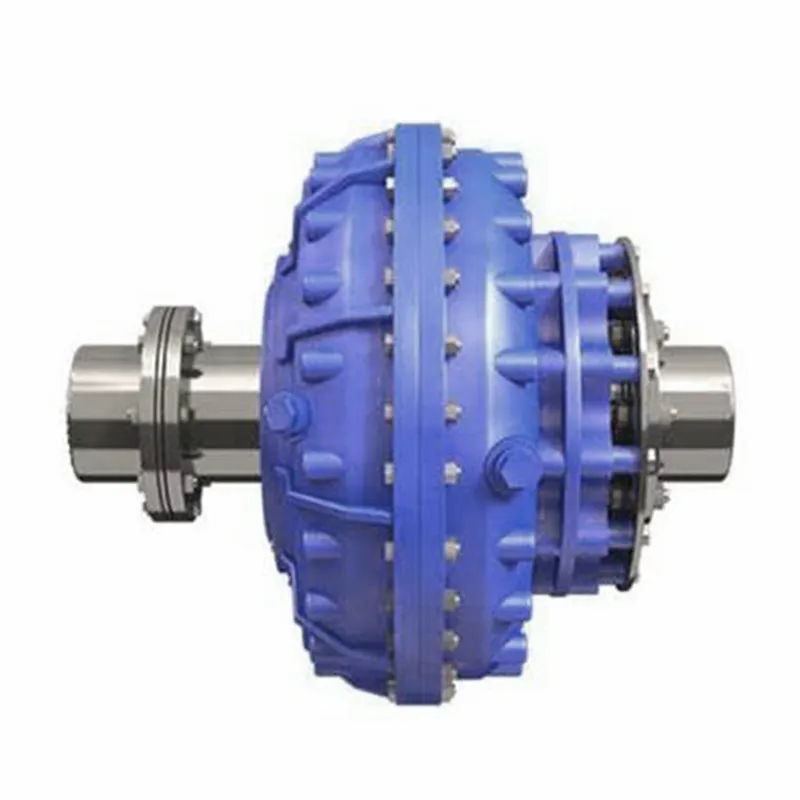 Fluid Coupling's Handling of Load Changes during Operation
Fluid couplings are designed to efficiently handle changes in load conditions during operation, providing smooth and controlled power transmission. Here's how fluid couplings accomplish this:
1. Torque Sensing: Fluid couplings are torque-sensitive devices. As the load on the driving side varies, the torque transmitted through the fluid coupling adjusts accordingly. When the load increases, the fluid coupling allows for some slip between the input and output sides, absorbing the excess torque. Conversely, when the load decreases, the fluid coupling reduces slip and transmits more torque, accommodating the new load conditions.
2. Load Distribution: In multi-drive systems, fluid couplings help to distribute the load evenly among connected equipment. When one machine experiences a higher load, the fluid coupling redistributes torque to prevent overloading of a specific component, ensuring a balanced power distribution.
3. Smooth Power Transmission: Fluid couplings offer a smooth and gradual transmission of power, even during load changes. Unlike mechanical clutches or direct couplings, fluid couplings provide a dampening effect, reducing shock loads and torsional vibrations when the load fluctuates. This minimizes stress on the connected machinery and enhances overall system reliability.
4. Soft Start and Stop: One of the significant advantages of fluid couplings is their ability to facilitate soft start and stop operations. During startup, the fluid coupling allows for controlled slip, gradually increasing the speed of the driven equipment. Similarly, during shutdown, the fluid coupling smoothly decelerates the connected machinery, preventing sudden stops that could cause damage or excessive wear.
5. Overload Protection: In situations where the load surpasses the rated capacity, the fluid coupling acts as an overload protector. By slipping and absorbing excess torque, it prevents damage to the connected equipment and the fluid coupling itself. This overload protection contributes to the safety and longevity of the entire system.
6. Automatic Adjustment: Fluid couplings automatically adjust to variations in load conditions without the need for manual intervention. This feature makes them suitable for applications with changing load demands, such as conveyors, crushers, pumps, and fans.
Overall, the ability of fluid couplings to handle changes in load conditions ensures stable and efficient power transmission while protecting the machinery from abrupt stress and wear. This makes fluid couplings an excellent choice for various industrial applications that require reliable and flexible power transfer.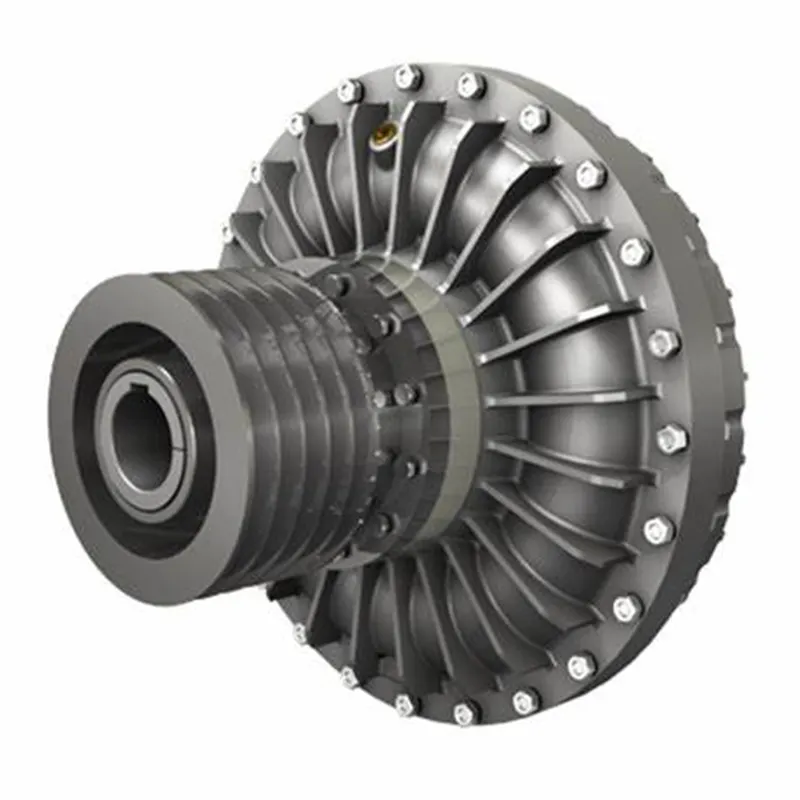 Safety Considerations when Working with Fluid Couplings
Fluid couplings are essential components in various industrial applications, and it's essential to follow safety guidelines when working with them. Here are some safety considerations:
Lockout-Tagout (LOTO): Before performing any maintenance or repair work on a fluid coupling, ensure that the equipment is properly shut down and that the energy sources are locked out and tagged out. This prevents accidental startup and protects personnel from potential hazards.
Fluid Containment: When draining or replacing the fluid in a fluid coupling, use appropriate containers to collect and contain the fluid. Avoid spills, as some coupling fluids may be hazardous.
High Temperatures: Fluid couplings can reach high temperatures during operation. Allow sufficient cooling time before handling or inspecting the coupling to avoid burns or injuries.
Personal Protective Equipment (PPE): Wear appropriate PPE, such as gloves and eye protection, when working with fluid couplings to protect against potential splashes or contact with hot surfaces.
Manufacturer Recommendations: Follow the safety guidelines and instructions provided by the fluid coupling manufacturer for installation, maintenance, and troubleshooting.
Proper Tools: Use the correct tools and equipment for maintenance and assembly tasks to prevent damage to the fluid coupling and ensure safe working conditions.
Training: Ensure that personnel working with fluid couplings are adequately trained in their proper use, maintenance, and safety procedures.
Inspections: Regularly inspect the fluid coupling for any signs of wear, leaks, or abnormalities that could pose safety risks. Address any issues promptly.
Hot Work: Avoid performing hot work (e.g., welding, cutting) in the vicinity of fluid couplings, as the high-temperature fluids and components may present a fire hazard.
Consult Experts: If in doubt or facing complex issues with fluid couplings, consult qualified experts or the manufacturer for guidance.
Adhering to these safety considerations will help minimize risks and ensure a safe working environment when dealing with fluid couplings.



editor by CX 2023-09-22