Product Description
Product Description
| | |
| --- | --- |
| System Advantages: | Product Advantages: |
| -Better Performance  | -Sleek internal surface |
| -Higher Sustainability  | -Low pressure loss for the arc bending |
| -More Efficient  | -Full bore design pipe fitting |
| -More Flexible Access  | -Safe connection with bulge loop and staple bolt |
| -Better Energy Efficiency    | -Spatial active sealing technology |
|   | -Gooseneck type quick connection mode |
Equal Pipe to Pipe Connector
1. Complete Reliability
Removable and reusable components, perfect for your factory environment
Fast installation of shunt device and branch pipeline, convenient adjustment of production line
Rich interfaces and accessories, suitable for any system
All components are nonflammable
2. Better Corrosion Resistance than 304 Stainless Steel
Anti-corrosion Internal Surface Treatment of Aluminum Alloy Pipe
Alkali and acid corrosion resistance
Internal surface always clean, no pressure loss of the pipe network system
3. Easy Operation
Pipelines and connectors can be installed immediately without additional treatment — no pre construction preparation is required
Fast assembly, no welding, gluing or stranding required – time saving
Easy assembley- no need for training
Light weight, easy for cutting pipes — easier to work on site
Directly use — the system can be tested and used immediately
4. Energy Saving
Consistently high quality interior surfaces – clean air
Low friction of inner surface — high flow performance
Precise pipe diameter – optimized sealing
Automatic filling type large contact surface sealing system ,no leakage
5. Excellent Resistance against the Following Environments
Corrosion
Mechanical vibration
Thermal variations
U.V
Compressor oil
6. Durable, Beauty
Electrostatic spraying when leaving the factory
Standard color, beautiful appearance
Product Parameters
Equal Pipe to Pipe Connector
| | | | |
| --- | --- | --- | --- |
| Product model | Nominal diameter mm | W mm | Hmm |
| 11 571030 | DN20 | 48 | 52 |
| 22 571030 | DN25 | 53 | 52 |
| | | | |
| --- | --- | --- | --- |
| | DN40 | 80 | 75 |
| 55 5710 30 | DN50 | 90 | 75 |
| 66 5710 30 | DN65 | 122 | 106 |
| 77 5710 30 | DN80 | 142 | 106 |
| 88 5710 30 | DN100 | 158 | 106 |
| 99 5710 30 | DN125 | 180 | 106 |
| CC 5710 30 | DN148 | 224 | 130 |
| BB 5710 30 | DN200 | 280 | 130 |
Product Category & Application
Upipe dedicates to the sustainable, efficient and energy efficiency fluid transportation system
Company Profile
HangZhou JIEU FLUID TECHNOLOGYCO., LTD. is a manufacturing company specialized in aluminum pipe, pipe fitting and industrial aluminum profile, which integrated in R&D, production, sales and installation. The group locates at economic and technological development zone of HangZhou, ZheJiang , with a floor space of 200 mu and total investment of 180 million yuan. With 5 aluminum alloy tube extrusion production lines, 3 deep processing production line for finished products, and 2 production lines for industrial aluminum profile, the annual production capacity can be 3,000 tons of aluminum alloy pipe and 8,000 tons of industrial aluminum profile. It has become the large-scale aluminum alloy manufacturer with first-class technical equipment as it has the state-of-the-art production and inspection equipment, including mold center, inspection center, R&D and other equipment imported from Germany, South Korea and Japan.
The company engages in the innovation and deep processing of non-ferrous materials and has launched high intensity aluminum alloy pipe, stainless-steel pipe, copper-aluminum composite pipe, aluminum pipe with internal thread, high-frequency welding of aluminum alloy collector pipe and pipe fittings, satisfying the demands of customers across the world with more diversified and better products.  
Our Customers
With the sustained innovation in design, JIEU strives to improve the reliability and durability of the products constantly. With the complete innovation, strict working condition design and rigorous quality control, JIEU ensures the production of high-quality products, providing powerful technical support for every project while minimizing your cost. JIEU will offer you with the perfect total solution for the fluid transportation so as to realize the optimal return of investment and safeguard the efficient productivity of customers.
Exhibition
Certifications
After Sales Service
Ten-year quality guarantee
Our company will replace or repair the product free of charge for the quality problem within 10 years from the installation and acceptance of UPIPE series product.
The exclusion clause shall not cover the problem or damage caused by the following reasons, which will be included but not limited to the following:
1. The product or component has been out of the warranty period, except for the product with extended quality assurance service.
2. The product has not been installed according to our stipulation or exceeded the applicable scope stipulated by our company. The product fails to be operated according to our company's manual and requirements of pertinent installation and maintenance document or it has been applied in a working environment that is against our stipulation. The damage caused by improper installation, storage or operation (for example, the ambient temperature is too high, too low or in a corrosive environment or hit by external force and so on.)
3. The breakdown or damage caused by unauthorized installation, repair, modification or dismounting performed by our company's after-sales personnel or the designated service agent, except for the third-party after-sales service agency entrusted by the company.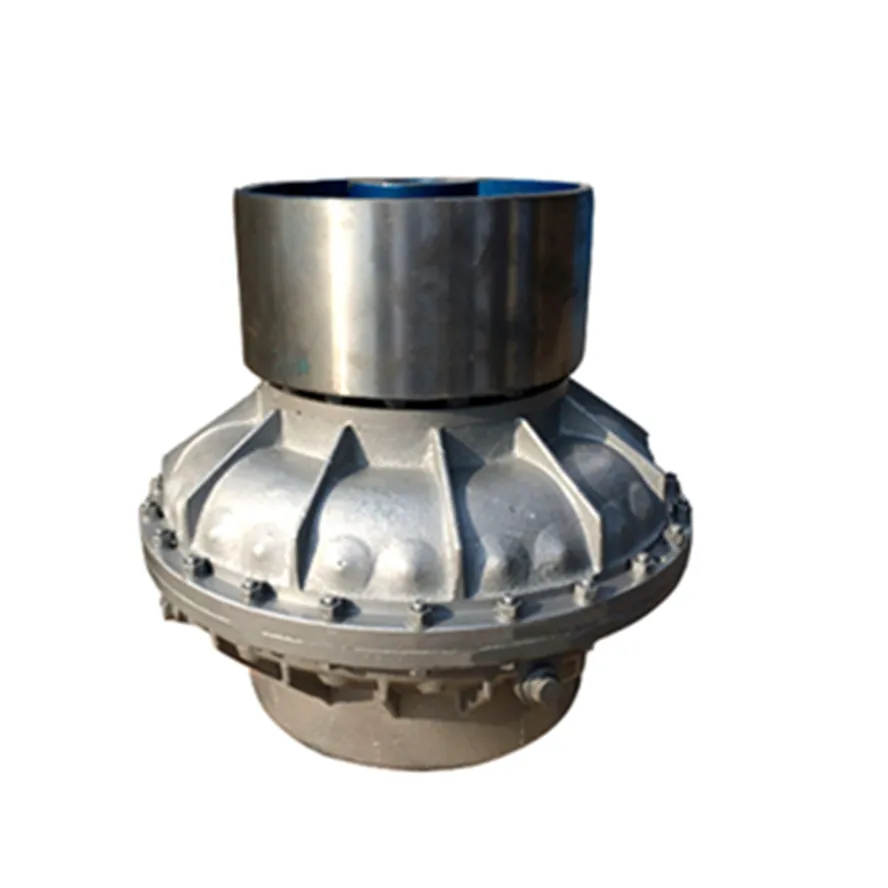 Factors to Consider when Choosing between a Fluid Coupling and a VFD (Variable Frequency Drive)
When selecting between a fluid coupling and a VFD for a power transmission application, several factors should be taken into account:
Speed Control Requirements: Consider whether variable speed control is essential for your application. VFDs are excellent for applications that require precise and flexible speed control, while fluid couplings typically offer limited speed control capabilities.
Energy Efficiency: Evaluate the energy efficiency requirements of your system. VFDs can offer higher energy efficiency by allowing the motor to run at optimal speeds, whereas fluid couplings introduce some energy losses due to slip.
Starting Torque: Examine the starting torque requirements of the driven load. Fluid couplings can provide high starting torque and smooth acceleration, which may be advantageous for applications with high inertia loads.
Overload Protection: Consider the need for overload protection. Fluid couplings inherently provide some protection against shock loads by allowing slip, while VFDs may require additional protective mechanisms.
Maintenance and Service: Evaluate the maintenance and service requirements of both systems. Fluid couplings are generally simpler and require less maintenance compared to VFDs, which involve electronic components.
Cost: Compare the initial and long-term costs of both options. VFDs often have higher upfront costs but can provide significant energy savings in the long run, while fluid couplings may have lower initial costs but could lead to higher energy consumption.
Ultimately, the choice between a fluid coupling and a VFD depends on the specific needs of your application. Each option has its advantages and limitations, and a thorough analysis of the operating conditions and performance requirements will help determine the most suitable solution for your system.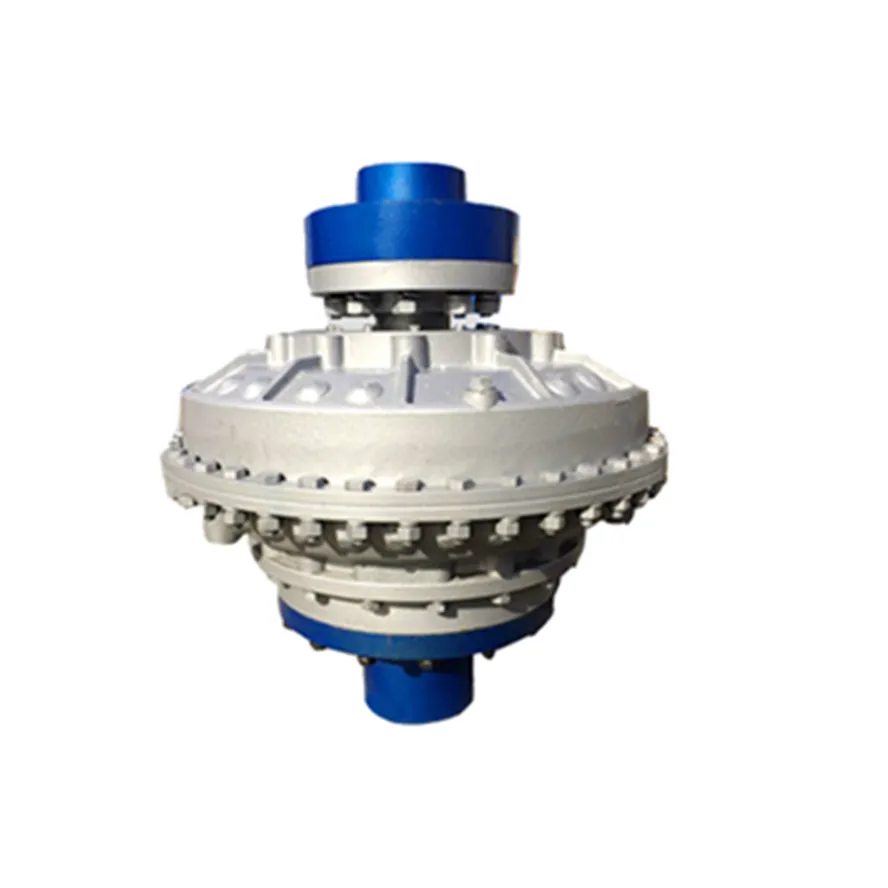 Fluid Couplings in High-Temperature Environments
Fluid couplings are versatile power transmission devices commonly used in various industrial applications. However, their suitability for high-temperature environments depends on several factors, including the design, materials, and the specific operating conditions.
Here are some key considerations regarding the use of fluid couplings in high-temperature environments:
Fluid Type: The type of fluid used inside the coupling greatly influences its temperature capabilities. Some fluid couplings are designed to handle higher temperatures by using specially formulated high-temperature fluids that can withstand elevated heat levels without degradation.
Materials: The materials used in the construction of the fluid coupling play a crucial role in determining its maximum temperature tolerance. High-quality materials with good heat resistance properties are required to ensure reliable performance in high-temperature conditions.
Lubrication: Proper lubrication is essential to reduce friction and heat generation within the fluid coupling. In high-temperature environments, ensuring sufficient and appropriate lubrication is crucial to prevent excessive wear and potential damage.
Cooling: Some fluid couplings come equipped with cooling systems, such as cooling fins or external cooling circuits, to dissipate excess heat generated during operation. These cooling mechanisms can enhance the coupling's capacity to handle higher temperatures.
Application Considerations: The specific application and load requirements must be taken into account. In some cases, high-temperature conditions may be intermittent or occasional, allowing the fluid coupling to cool down between cycles. However, continuous high-temperature operation may require a more robust and specialized fluid coupling.
It is important to consult with the fluid coupling manufacturer to understand the temperature limitations and performance capabilities of their products. Manufacturers can provide guidance on selecting the appropriate fluid coupling for specific high-temperature applications.
While fluid couplings can be suitable for moderate to high-temperature environments, it is essential to operate them within their specified temperature range to ensure optimal performance and longevity. Extreme temperatures beyond the coupling's rated limits can lead to accelerated wear, reduced efficiency, and potential damage, ultimately affecting the reliability of the power transmission system.
In summary, fluid couplings can be used in high-temperature environments, provided that the coupling's design, materials, and lubrication are suitable for the specific application and operating conditions. Regular maintenance and adherence to the manufacturer's guidelines are essential to ensure reliable performance and durability in such environments.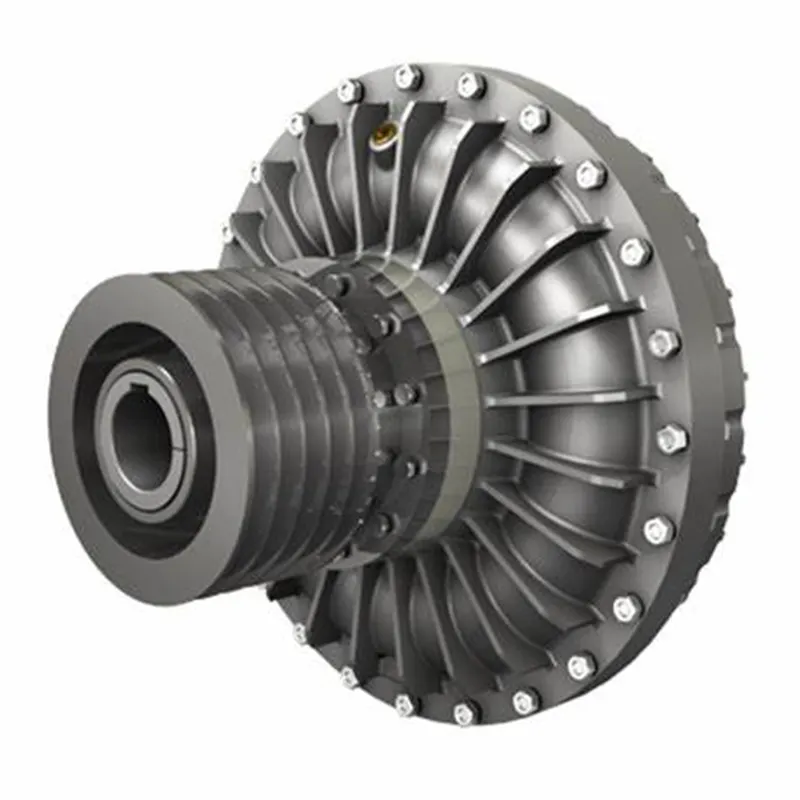 Safety Considerations when Working with Fluid Couplings
Fluid couplings are essential components in various industrial applications, and it's essential to follow safety guidelines when working with them. Here are some safety considerations:
Lockout-Tagout (LOTO): Before performing any maintenance or repair work on a fluid coupling, ensure that the equipment is properly shut down and that the energy sources are locked out and tagged out. This prevents accidental startup and protects personnel from potential hazards.
Fluid Containment: When draining or replacing the fluid in a fluid coupling, use appropriate containers to collect and contain the fluid. Avoid spills, as some coupling fluids may be hazardous.
High Temperatures: Fluid couplings can reach high temperatures during operation. Allow sufficient cooling time before handling or inspecting the coupling to avoid burns or injuries.
Personal Protective Equipment (PPE): Wear appropriate PPE, such as gloves and eye protection, when working with fluid couplings to protect against potential splashes or contact with hot surfaces.
Manufacturer Recommendations: Follow the safety guidelines and instructions provided by the fluid coupling manufacturer for installation, maintenance, and troubleshooting.
Proper Tools: Use the correct tools and equipment for maintenance and assembly tasks to prevent damage to the fluid coupling and ensure safe working conditions.
Training: Ensure that personnel working with fluid couplings are adequately trained in their proper use, maintenance, and safety procedures.
Inspections: Regularly inspect the fluid coupling for any signs of wear, leaks, or abnormalities that could pose safety risks. Address any issues promptly.
Hot Work: Avoid performing hot work (e.g., welding, cutting) in the vicinity of fluid couplings, as the high-temperature fluids and components may present a fire hazard.
Consult Experts: If in doubt or facing complex issues with fluid couplings, consult qualified experts or the manufacturer for guidance.
Adhering to these safety considerations will help minimize risks and ensure a safe working environment when dealing with fluid couplings.



editor by CX 2023-10-01