Product Description
DIN11851 nut food grade hose fitting fluid safety sanitary coupling 
The standard of sanitary fittings are DIN11850/11851, SMS1145, 3A, RJT. Material is stainless steel ISI 316/1.4408. Sanitary coupling is connected with round nut, welding or using with ferrule. Working pressure is 10 bar. It is widely used in industries of drink, milk, food, pharmacy, beer, biological medical treatment and cosmetics. The great advantage of it is corrosion-resistant, nice mechanical polish and easy to connect and disconnect, what's more, it is up to the sanitary standard.
Our Advantage
We are experienced as we have been in this industry as a manufacturer for more than 10 years. Both of quality and service are highly guaranteed. Absolutely prompt delivery. We can produce according to specific drawings from customers. Welcome OEM/ODM project. Strict control on quality. High efficient and well trained sale service team.  ISO9001, CE and SGS certified.
FAQ
1.Q: Are you a producer or trading company?
A: We are an experienced manufacturer. We own production line and kinds of machines.
 
2. Can you make our specific logo on the part?
Yes please provide me your logo and we will make your logo on the part.
3. Can you manufacture products according to my drawings?
Yes we can manufacturer according to client's drawings if drawings or samples are available. We are experienced enough to make new tools.
4. Q: Can I get some samples?
A: We are honored to offer you our samples. Normally it is for free like 3-5 pcs. It is charged if the samples are more than 5 pcs. Clients bear the freight cost.
5. Q: How many days do you need to finish an order?
A: Normally it takes about 30 days to finish the order. It takes more time around CHINAMFG season, or if the order involves many kinds of different products.  
6. what kind of rubber washer do you apply to camlock couplings?
Normally we use NBR gasket.
product-list-1.html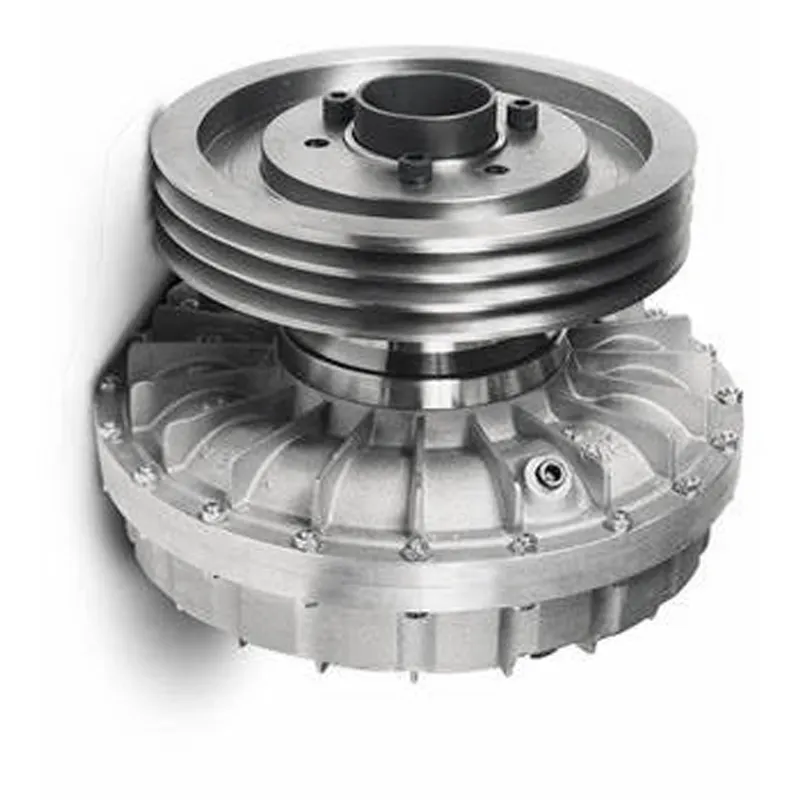 Maintenance-Free Fluid Coupling Options
Yes, there are maintenance-free fluid coupling options available in the market. Advances in fluid coupling technology have led to the development of maintenance-free or low-maintenance designs that offer extended service intervals and reduced downtime.
These maintenance-free fluid couplings typically incorporate features that minimize wear and prolong the operating life of the coupling, reducing the need for regular maintenance and lubrication.
Some of the key features and technologies found in maintenance-free fluid couplings include:
Sealed Design: Maintenance-free fluid couplings often come with a sealed design that prevents the ingress of contaminants and dirt, reducing the risk of internal damage and wear.
High-Quality Materials: These couplings are constructed using high-quality materials that exhibit excellent durability and resistance to wear, ensuring a longer lifespan.
Lubrication-Free Operation: Certain maintenance-free fluid couplings utilize special fluid formulations that provide long-lasting lubrication, eliminating the need for frequent fluid changes or refills.
Robust Bearings: Maintenance-free fluid couplings are equipped with robust bearings that can withstand high loads and operate smoothly without the need for regular maintenance.
Advanced Monitoring Systems: Some modern fluid couplings are equipped with advanced monitoring and diagnostic systems that provide real-time data on coupling performance, enabling proactive maintenance planning and minimizing unexpected failures.
By opting for a maintenance-free fluid coupling, industries can benefit from reduced maintenance costs, improved reliability, and increased productivity. These couplings are particularly valuable in applications where access to equipment for regular maintenance is challenging or in remote locations where maintenance resources may be limited.
However, it's essential to note that the specific maintenance requirements may vary depending on the manufacturer and the application. It is advisable to consult with the coupling manufacturer or supplier to select the most suitable maintenance-free fluid coupling based on the operating conditions and requirements of the machinery or equipment.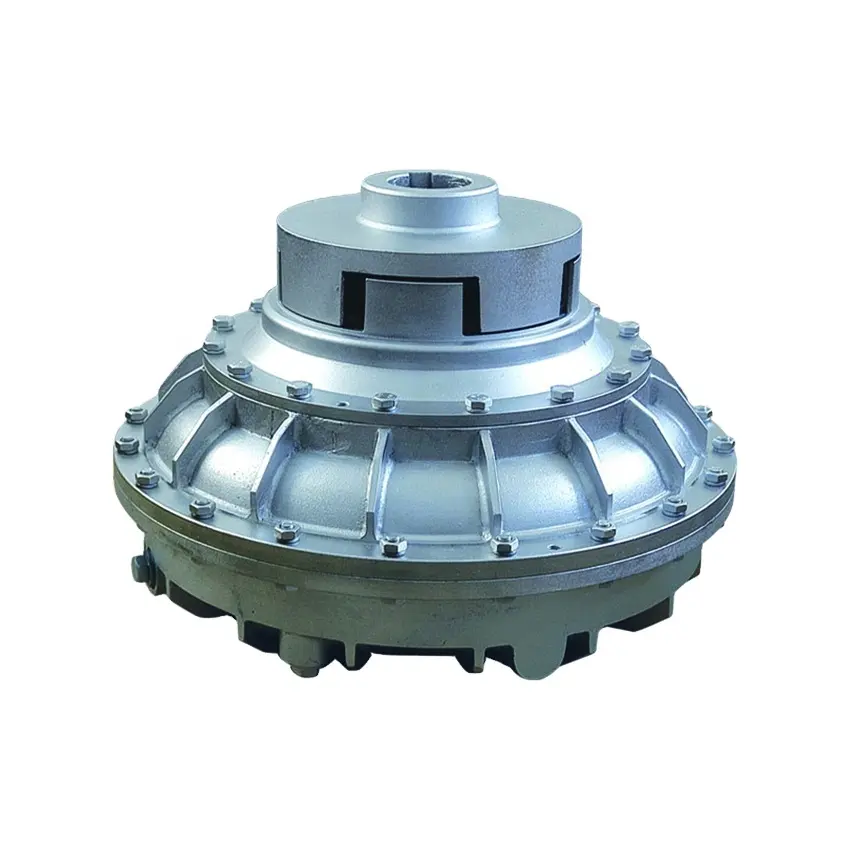 Role of Fluid Coupling in Torque Multiplication and Power Transfer
A fluid coupling is a mechanical device used to transmit power between two shafts without direct physical contact. It operates on the principles of fluid dynamics and hydrokinetics to enable torque multiplication and efficient power transfer. Here's how a fluid coupling achieves these functions:
Hydrodynamic Torque Converter: A fluid coupling is essentially a hydrodynamic torque converter. When the input shaft (driving shaft) rotates, it sets the transmission fluid inside the coupling in motion. The fluid experiences centrifugal forces, creating a high-velocity zone near the outer circumference and a low-velocity zone near the center. This velocity difference generates torque in the fluid coupling, allowing power to be transmitted from the input shaft to the output shaft (driven shaft).
Torque Multiplication: One of the primary advantages of a fluid coupling is its ability to provide torque multiplication. During startup or when the load on the driven shaft is initially low, the fluid coupling slips to some extent, which allows the input shaft to rotate at a higher speed than the output shaft. This speed difference results in torque multiplication, enabling the fluid coupling to handle higher loads during acceleration or heavy starting conditions.
Power Transfer Efficiency: Fluid couplings offer high power transfer efficiency due to the hydrodynamic nature of their operation. The smooth and continuous transmission of power through the fluid medium minimizes energy losses and mechanical wear, leading to more efficient power transmission compared to mechanical clutches or direct-coupling methods.
Load Adaptability: Fluid couplings automatically adjust their slip to adapt to changing load conditions. When the load on the output shaft increases, the fluid coupling slips more, allowing the output shaft to slow down slightly and match the load demand. This load adaptability ensures smooth and stable power transfer even under varying operating conditions.
Fluid couplings are commonly used in applications where torque multiplication and smooth power transfer are essential. They find widespread use in heavy machinery, mining equipment, conveyors, crushers, marine propulsion systems, and many other industrial applications. By efficiently transferring power while providing torque multiplication, fluid couplings help optimize the performance and longevity of power transmission systems.
Proper selection of the fluid coupling based on the application's torque and power requirements is crucial to ensure optimal torque multiplication and power transfer. Additionally, regular maintenance and monitoring of the fluid coupling's condition are essential to maintain its efficiency and reliability over time.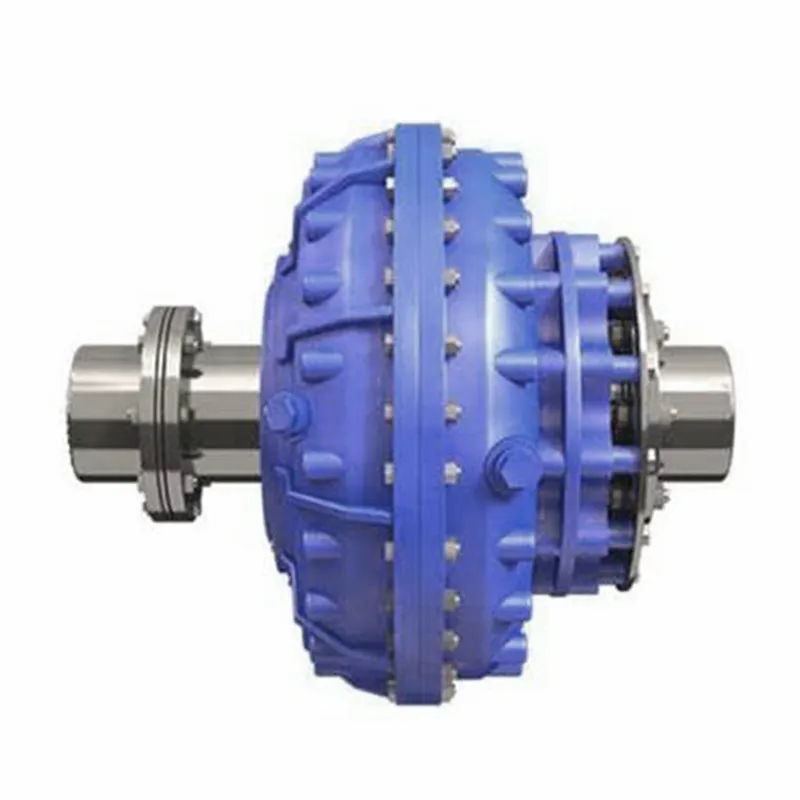 Examples of Industries Using Fluid Couplings
Fluid couplings find applications in various industries where smooth power transmission and torque control are required. Some common industries that commonly use fluid couplings include:
Mining: Fluid couplings are used in mining equipment such as conveyors, crushers, and excavators to provide controlled startup and overload protection.
Construction: Construction machinery like cranes, loaders, and piling rigs use fluid couplings for efficient power transmission and reduced shock loads.
Marine: Fluid couplings are employed in marine propulsion systems to optimize engine performance and protect against sudden load changes.
Steel and Metal Processing: Industries dealing with metal processing use fluid couplings in rolling mills, coilers, and metal forming machines for soft start and overload protection.
Pulp and Paper: Pulp and paper mills utilize fluid couplings in various equipment, such as chippers, conveyors, and pumps, for smooth power transmission.
Automotive: In automotive applications, fluid couplings can be found in torque converters, which provide smooth torque transmission in automatic transmissions.
Energy and Power Generation: Fluid couplings are used in power plants for applications like fans, pumps, and turbines to control power transmission and reduce mechanical stress during startup.
Wastewater Treatment: Fluid couplings are used in wastewater treatment plants for applications like aerators and pumps, ensuring efficient power transmission and equipment protection.
Food and Beverage: Industries dealing with food processing and beverage production use fluid couplings in various applications to ensure gentle power transmission and prevent sudden load shocks.
Chemical and Petrochemical: Fluid couplings are used in pumps and mixers in chemical and petrochemical processing to control torque and protect equipment.
These examples illustrate the versatility of fluid couplings and their widespread use across diverse industries to enhance the efficiency and safety of power transmission systems.



editor by CX 2023-10-11