Product Description
2000Psi Series ISO7241-A Steel Hydraulic Coupling for Fluid
Hydraulic Couplings are used across the spectrum of hydraulic applications. 
These Double Shut-Off couplings can be found anywhere that fluid transfer lines need to be connected and disconnected for operation or maintenance of equipment, and a loss of fluid is undesirable. 
Primarily used with hydraulic fluid. 
Hydraulic couplings are also used with chemicals, water, steam, and some gases.
Feature
1. The H001 Series hydraulic quick couplings are mainly used for construction equipment, forest
equipment, hydraulic machinery and oil equipment and other required hydraulic applications.
2. Poppet valves are available to prevent uncoupled leakage . Poppet valves open automatically when coupled within rated working pressure to keepthe flow expeditely.
3. Critical parts are hardened for durability.
4. H001 series conforms to the standard ISO7241-A.
5. Compatible with CHINAMFG 6600 Series, FASTERANV Series, AEROQUIP 5600 Series and
HANSEN HA 15000 Series.
Specifications
 
Drawing
Advantage
1.Raw Material conforms to China industry standard, bought from famous factory.
2. Insulation grade: H class, good resistance to high temperature.
3. Machined by CNC to make sure the tolerance as the drawing
4. 100% leakage testing under low pressure and high pressure.
5. All kinds of valve and seals material to meet custom requirement.
6. 1 year quality assurance after shipment.
7. After-sales technique support.
Packing & Shipping
Packing:
Transparent plastic bag + white small box + neutral carton + pallet
Custom packaging are available, XHnotion brand packaging are available
 
Shipping :
Export port: HangZhou or ZheJiang , China.
Shipping way: by sea, by air, by courier.
Express: TNT, DHL, UPS, FedEx, SF Express.
Delivery time: 3 days to 30 days depends on actual orders.
Our Company
XHnotion originate from notion between pneumatic power and human.
(X stands for winds, H stands for human)
In Chinese, XHnotion stands for 'we do, we promise'  we read it 'X-notion'.
The company XHnotion Pneumatic was founded in 2007 and has developed with a steadily growing success to a reliable partner for international established clients.
This success of the company XHnotion Pneumatic is based on:
High class quality standard
Customer satisfaction
Fair price policy
Flexibility
The high-class quality standard of the products of company XHnotion is reflected in our quality management system, certificated ISO 9001:2008. And we got CE, RoHS, REACH certificate for international market. 
XHnotion Pneumatic manufactures below products:
Pneumatic Components: air cylinder, solenoid valve, FRL
Solenoid Calve: standard solenoid valve, multipurpose solenoid valve, pneumatic angle valve
Pneumatic Fittings: plastic pneumatic fittings, mental pneumatic fittings, pneumatic muffler, water push in fittings
Air Gun & Couplers: pneumatic couplers, air guns, air tool kits
Air Hoses: air tubing, PTFE tubes, tube cutter, pipes
Why Choose US ?
1. We offer one stop solution. Over 5000 items for you to save efforts and costs.
2. We have molds workshop, die-casting workshop, CNC workshop, plastic injection workshop to 
    make sure each part exactly as the drawing and good function.
3. We will reply you within 24 hours.
4. Whatever quantity you are requesting, we always offer you the best quality.
5. 3D drawing, CAD drawing service for custom fittings, hose, valve, cylinder.
FAQ
Payment Terms :
We accept T/T, L/C, Paypal, Western Union, Money Gram, etc.
 
Samples Policy :
For regular valves, samples against your courier account or you pick up from us.
For custom items, we will discuss by email.
 
Return Policy: 
We assure you 1 year policy after shipment. 
If there is any problem during this period, please contact us for support.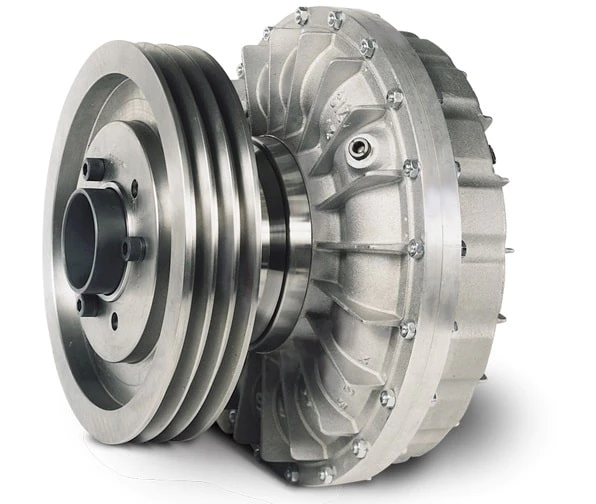 What are the Differences between Fluid Couplings and Mechanical Clutches?
Fluid couplings and mechanical clutches are both components used in power transmission systems, but they operate on different principles and have distinct characteristics:
Operating Principle:

Fluid Coupling: A fluid coupling uses hydraulic fluid to transmit torque. It consists of an impeller and a runner immersed in a fluid-filled chamber. When the input shaft (driving member) rotates, it imparts motion to the fluid, which in turn drives the output shaft (driven member).
Mechanical Clutch: A mechanical clutch relies on physical contact between friction surfaces to transmit torque. When engaged, the clutch plates or discs press against each other, creating a mechanical link between the input and output shafts.

Slippage:

Fluid Coupling: Fluid couplings allow a certain degree of slippage between the input and output shafts. This slippage provides a smooth start and helps protect the machinery from shock loads.
Mechanical Clutch: Mechanical clutches have minimal slippage when engaged, providing a direct and rigid connection between the input and output shafts.

Control:

Fluid Coupling: Fluid couplings provide automatic torque transmission without the need for manual engagement or disengagement.
Mechanical Clutch: Mechanical clutches require manual actuation to engage or disengage, allowing for precise control over power transmission.

Heat Dissipation:

Fluid Coupling: Fluid couplings dissipate heat generated during operation, which helps prevent overheating of the system.
Mechanical Clutch: Mechanical clutches may generate more heat due to friction, requiring additional cooling mechanisms in high-power applications.

Applications:

Fluid Coupling: Fluid couplings are commonly used in heavy machinery, such as mining equipment, crushers, and conveyors, where shock absorption and smooth starts are crucial.
Mechanical Clutch: Mechanical clutches are prevalent in applications where precise engagement and disengagement are required, such as automotive transmissions and manual industrial machinery.
While both fluid couplings and mechanical clutches serve the purpose of transmitting torque, their different operating principles and features make them suitable for specific applications and operating conditions.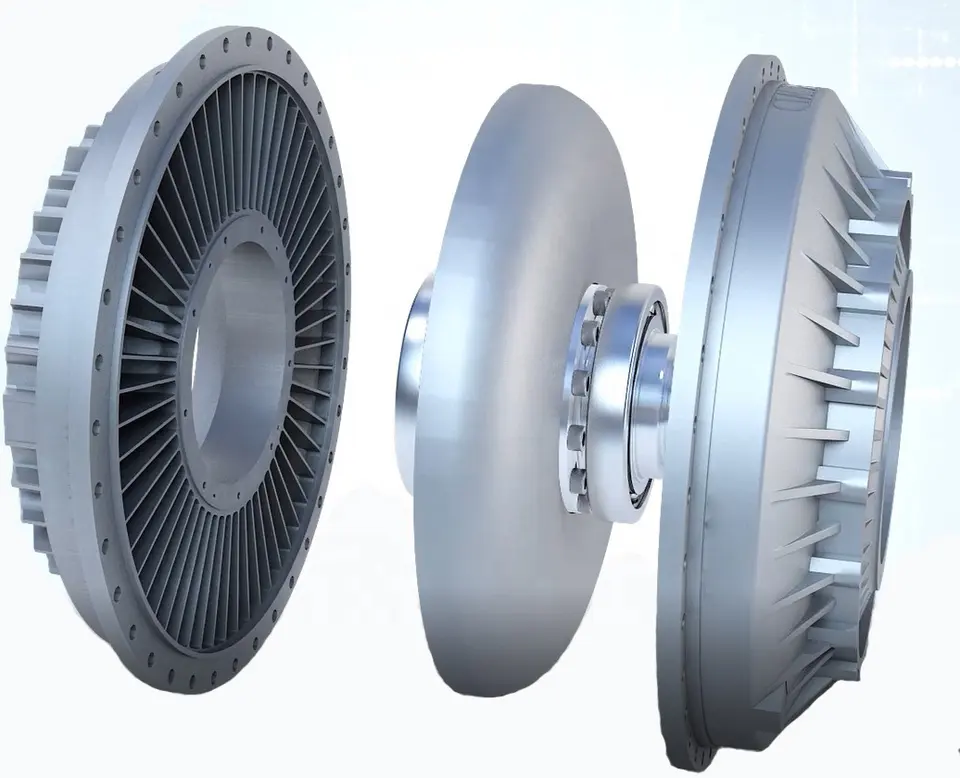 Fluid Couplings for Soft-Start Applications in Conveyor Systems
Yes, fluid couplings are well-suited for soft-start applications in conveyor systems. Soft-starting is the gradual acceleration of the conveyor belt to reduce sudden mechanical stress and current spikes during startup. Fluid couplings provide a smooth and controlled method of power transmission, making them ideal for achieving soft-start capabilities in conveyor systems.
When a conveyor system equipped with a fluid coupling starts, the fluid inside the coupling initially acts as a viscous medium, allowing the input and output shafts to rotate at different speeds. As the fluid coupling fills with fluid, it gradually transmits torque and smoothly accelerates the conveyor belt.
One of the significant advantages of using fluid couplings for soft-start applications is that they provide adjustable startup times. By controlling the amount of fluid inside the coupling, the startup acceleration rate can be precisely tuned to match the specific requirements of the conveyor system.
The soft-start feature offered by fluid couplings helps in several ways:
Mechanical Stress Reduction: The gradual acceleration minimizes mechanical stress on the conveyor belt, pulleys, and other components, leading to extended equipment life and reduced maintenance costs.
Energy Savings: Soft-starting prevents sudden current spikes and reduces the power demand during startup, resulting in energy savings and improved efficiency.
Improved Conveyor Belt Life: By avoiding abrupt starts, the wear and tear on the conveyor belt are reduced, leading to longer belt life and decreased downtime.
Enhanced Conveyor Control: Soft-start capabilities enable better control over the conveyor system, allowing operators to optimize the material flow and prevent product spillage or jamming.
Fluid couplings offer reliable and cost-effective soft-start solutions for conveyor systems across various industries, including mining, manufacturing, and material handling. They are particularly beneficial when dealing with heavy loads or long conveyor belts, where the avoidance of sudden shock loads is critical.
In summary, fluid couplings are a popular choice for soft-start applications in conveyor systems due to their smooth and controlled power transmission, adjustable startup times, and the ability to reduce mechanical stress and energy consumption during startup.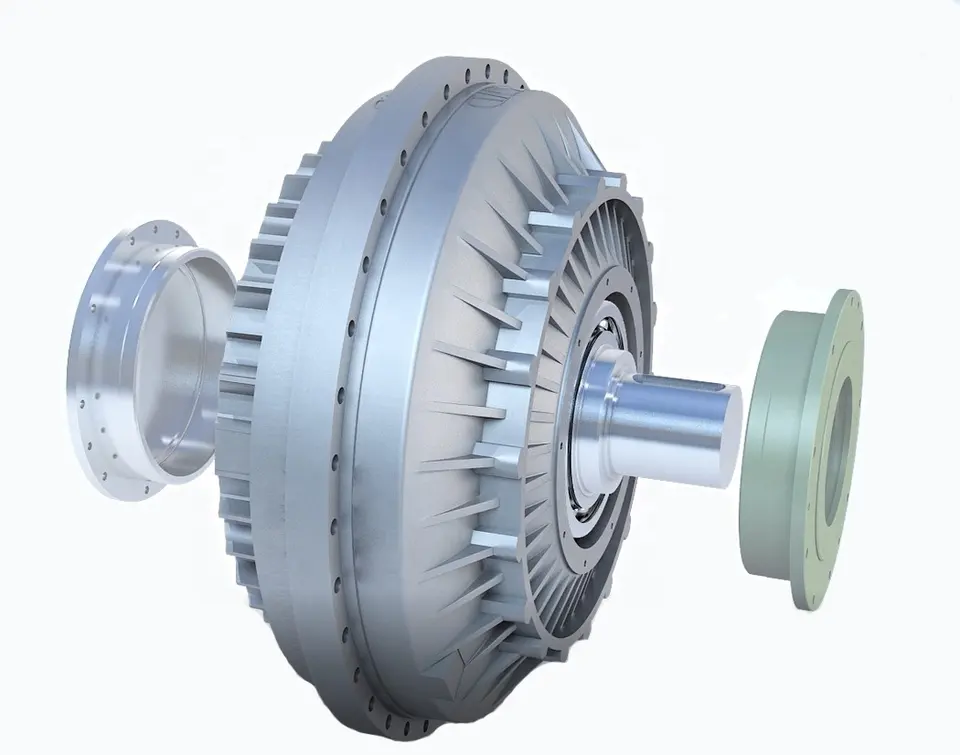 Controlling Torque and Rotational Speed with Fluid Couplings
A fluid coupling plays a crucial role in controlling torque and rotational speed in power transmission systems. The principle behind its operation allows for smooth torque transmission while offering some level of speed control:
Torque Transmission: When power is applied to the input side (also known as the driving side) of the fluid coupling, the impeller starts to rotate and accelerates the transmission fluid inside the housing. The kinetic energy of the moving fluid creates a rotating flow pattern that transfers torque to the output side (also known as the driven side) of the coupling. This torque transfer enables the connected machinery or equipment to start smoothly without any shock loading.
Slip: In a fluid coupling, there is always a slight difference in speed between the input and output sides due to the viscous nature of the fluid. This speed difference is known as slip. The slip allows the fluid coupling to protect the connected components from sudden torque spikes and vibrations. If the output side experiences an abrupt load increase or jam, the slip absorbs the excess torque, preventing damage to the drivetrain.
Speed Control: While fluid couplings are not as efficient in speed control as variable-speed drives, they do offer some inherent speed control characteristics. The amount of slip in the fluid coupling affects the output speed relative to the input speed. By adjusting the fill level of the fluid coupling or using different fluid viscosities, it is possible to fine-tune the speed at which the output shaft rotates. However, it's important to note that this speed control is limited compared to other speed control mechanisms.
Overall, fluid couplings provide a reliable and efficient means of controlling torque during power transmission. Their ability to dampen torsional vibrations and provide overload protection makes them suitable for various applications where smooth torque transfer and protection against shock loads are essential.



editor by CX 2023-11-16