Product Description
Product Description

| | | |
| --- | --- | --- |
| 1 | Material | polyethylene, polyethylene/PP |
| 2 | Size | DN20-110MM |
| 3 | Working Pressure | PN10,PN16 |
| 4 | Color | Light Blue,dark blue ,black |
| 5 | Application | Irrigation and water distribution |
Related Products
Advantages
1. Easy installation: light weight
2. Quick connection: perfect sealing performance.
3. PP material is recycled and environment-friendly
4. Low flow resistance: smooth interior walls and low friction
5. High corrosion resistant: resist chemical matters and electron chemical corrosion
6. Non-toxic: no heavy metal additives, covered with dirt or contaminated by bacterium
7. Widely used : Farming irrigation, Water supply, Greenhouse, Industry, Golf courses, Swimming pools, Cable conduits,etc

Company Profile
High Mountain Pipe is dedicated to the manufacturing and sales of various kinds of plastic pipes, fittings, valves, related plumbing equipments, etc. And we can provide professional solution method for complete pipe system. The production and sales volume of leading products of PE water supply pipes and HDPE drainage pipes ranks among the highest in the industry.
The company covers an area of about 200,000 square CZPT and has 6 workshops, 30 production lines, 300 workers, and 200,000 tons annual ability. It is a comprehensive enterprise integrating science, industry and trade. The industries involved are: research, production, development, manufacturing, and polymer materials of plastic pipes. All products meet the requirements of national inspection standards or enterprise inspection standards.  Application
The company's products are widely used in the construction of civilized ecological village, factory and mine construction,
small town construction, municipal engineering, urban-rural integration construction, new town construction and other fields.
Certifications
FAQ
Q1: May I get 1 sample before placing order?
Re: Yes, Sample are available. For normal products, samples are for free and you just need to bear the freight; For those high value products, you just need to freight and certain product cost. When we both cooperate for some times or when you are our VIP customer, free sample will be offered when you need.
Q2: Which payment is available for your company?
Re: T/T, L/C or Ali trade insurance. You can choose the 1 which is convenient for you.
Q3: How and when can I get my goods after payment?
Re: For small quantity products, they will be delivered to you by international courier(DHL, FedEx, TNT etc.) or by air. Usually it will cost 3-5days that you can get the goods after delivery. For large quantity products,shipping by see is worthwhile.It will cost days to weeks to come to your destination port, which depends on where the port is.
Q4: Is there any possible to use my appointed label or package?
Re: Yes. If needed, we'd like to use label or package according to your requirement.
Q5: How can you guarantee the goods you offer is qualified?
Re: We always believe honesty and responsibility are basis of 1 company, so whatever products we provide for you all are qualified. We will have goods tested and provide COA before delivery for sure.
Q6:Is the price on this page correct?
Re: The listed price is only for reference, for latest price, pls contact us directly.
Main products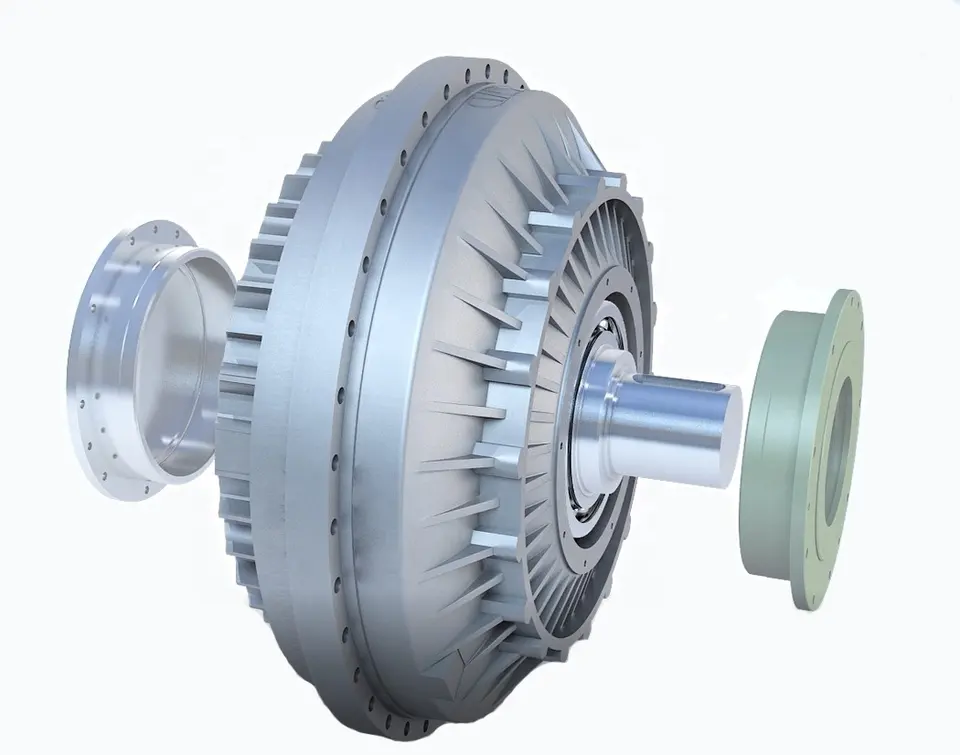 Noise and Vibration Issues with Fluid Couplings
Fluid couplings are generally designed to operate smoothly and quietly, but certain factors may lead to noise or vibration issues in some cases:
Imbalanced Components: If the components of the fluid coupling, such as the impeller and runner, are not balanced properly, it can result in vibrations during operation. Regular maintenance and balancing can help mitigate this issue.
High Operating Speeds: At high speeds, fluid couplings can generate more noise and vibration due to increased fluid turbulence. Using damping techniques or selecting appropriate coupling types can help reduce these effects.
Fluid Level: Incorrect fluid levels in the coupling can lead to inadequate lubrication and cause noise during operation. Regularly checking and maintaining the fluid level can prevent such problems.
Misalignment: Misalignment between the driving and driven shafts can result in increased noise and vibration. Proper alignment during installation is essential to avoid this issue.
Fluid Characteristics: The choice of fluid can also impact noise and vibration levels. Using fluids with appropriate viscosity and lubricating properties can help achieve smoother and quieter operation.
Aging or Contaminated Fluids: Over time, the fluid in the coupling may degrade or become contaminated, leading to increased friction and noise. Regular fluid replacement and maintenance can prevent this problem.
Addressing noise and vibration issues with fluid couplings involves proper installation, regular maintenance, and using high-quality components and fluids. Consulting with manufacturers or experts can help identify and resolve any specific noise or vibration concerns in the power transmission system.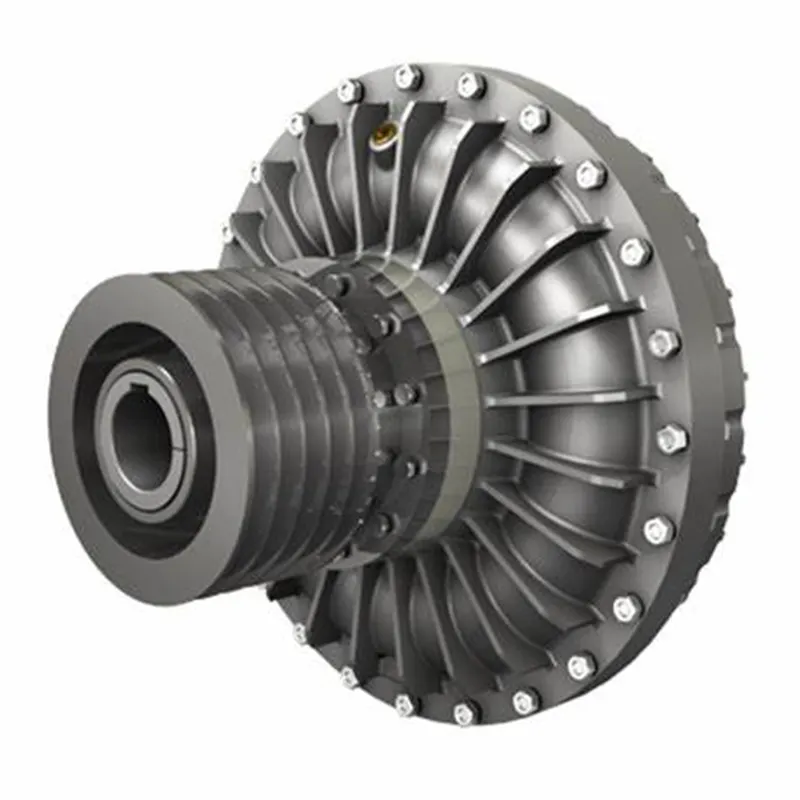 Safety Features in Modern Fluid Coupling Designs
Modern fluid coupling designs incorporate various safety features to ensure the reliable and secure operation of the equipment. Here are some of the key safety features commonly found in modern fluid couplings:
1. Overload Protection: One of the primary safety features in modern fluid couplings is overload protection. In the event of an abrupt increase in load or torque, the fluid coupling slips, absorbing the excess torque and preventing damage to the connected equipment. This feature safeguards against mechanical failures and protects the machinery.
2. Torque Limiting: Fluid couplings are designed with torque limiting capabilities, which allow them to control the maximum torque transmitted to the driven equipment. By setting the torque limit within a safe operating range, the fluid coupling prevents excessive stresses on the system, ensuring longevity and reliability.
3. Automatic Overheat Protection: Some fluid couplings are equipped with automatic overheat protection mechanisms. If the fluid coupling's operating temperature exceeds a predefined threshold, the protection system disengages the coupling temporarily until the temperature returns to a safe level. This prevents damage due to overheating and enhances safety.
4. Backstop or Holdback Device: In certain applications where reverse rotation is a concern, fluid couplings may include a backstop or holdback device. This feature prevents the driven equipment from rotating in the opposite direction, enhancing safety during sudden stops or reversals.
5. Fail-Safe Operation: Many modern fluid couplings are designed to operate in a fail-safe manner. In the event of any malfunction or failure, the coupling defaults to a safe mode, allowing the equipment to continue operating at reduced capacity or gradually shut down, avoiding catastrophic failures.
6. Seal Protection: Proper sealing is crucial for fluid couplings, especially in harsh environments. Modern designs often include advanced seal protection features to prevent oil leakage and contamination, ensuring environmental safety and reducing maintenance requirements.
7. Low Noise and Vibration: Reduced noise and vibration levels in fluid couplings contribute to operator safety and comfort. The damping properties of the fluid coupling help minimize vibrations, creating a quieter and more stable working environment.
8. Emergency Stop Capability: Some fluid couplings may have emergency stop provisions to quickly disengage the coupling in critical situations. This feature allows for rapid shutdowns in emergencies, preventing accidents and protecting personnel.
9. Condition Monitoring: Advanced fluid coupling designs may include condition monitoring capabilities. This allows operators to monitor the coupling's performance, temperature, and other parameters in real-time, facilitating predictive maintenance and avoiding unexpected failures.
Overall, the incorporation of these safety features in modern fluid coupling designs ensures the protection of machinery, operators, and the surrounding environment. These safety measures enhance the reliability, efficiency, and longevity of equipment, making fluid couplings a safe and valuable choice for power transmission in various industrial applications.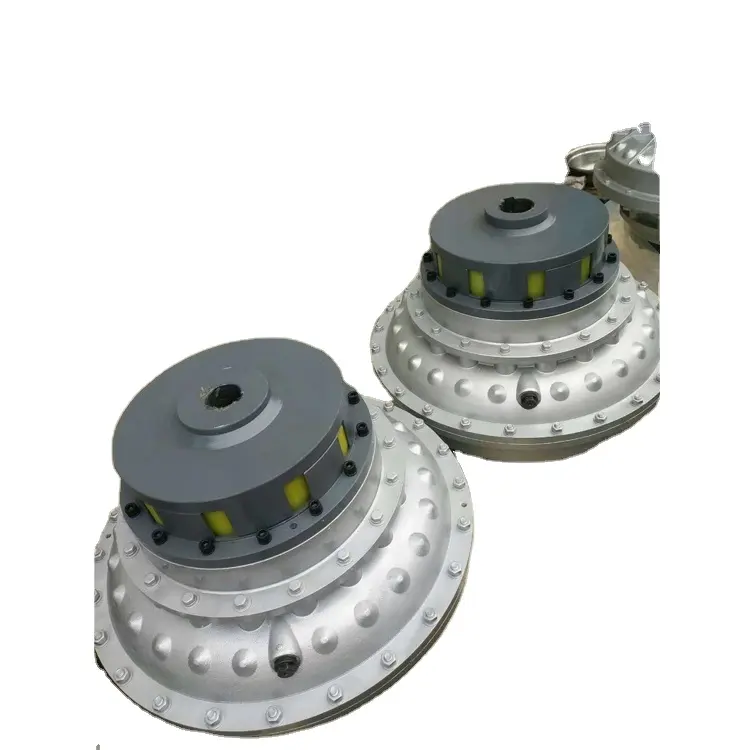 Maintenance Practices for Fluid Couplings
Regular maintenance is crucial to keep a fluid coupling in good condition and ensure its longevity. Here are the key maintenance practices:
Fluid Level Checks: Regularly inspect the fluid level in the fluid coupling. Maintain the fluid level within the recommended range specified by the manufacturer.
Fluid Quality: Monitor the quality of the fluid in the fluid coupling. Check for any signs of contamination, degradation, or discoloration. If the fluid shows signs of wear, replace it following the manufacturer's guidelines.
Fluid Replacement: As part of routine maintenance, consider replacing the fluid periodically, even if there are no visible signs of wear. Fluid replacement intervals may vary based on the application and operating conditions.
Lubrication: Ensure proper lubrication of the fluid coupling components, including bearings and seals, as specified by the manufacturer.
Inspections: Regularly inspect the fluid coupling for any signs of leaks, damage, or unusual noises during operation. Address any issues promptly to prevent further damage.
Alignment: Verify that the fluid coupling is correctly aligned with the connected equipment. Misalignment can lead to premature wear and reduced performance.
Coupling Bolts: Check and tighten the coupling bolts as needed to maintain proper coupling integrity.
Temperature Monitoring: Monitor the operating temperature of the fluid coupling. Elevated temperatures may indicate an issue that needs attention.
Vibration Analysis: Periodically perform vibration analysis to detect any abnormal vibrations that could indicate potential problems.
Manufacturer Guidelines: Follow the maintenance guidelines and recommendations provided by the fluid coupling manufacturer.
By adhering to these maintenance practices, you can extend the life of your fluid coupling, improve its reliability, and minimize the risk of unexpected failures.



editor by CX 2023-09-13